We specialize in Oil & Gas Water Management including Treatment, Pumping, Infrastructure and Reuse. Our team of experts is always available to discuss any water-related project solution to see how we can best meet your needs.
We work hand-in-hand with operators to determine the best, most cost-effective program to manage and treat water based on location, water quality and the goals of the operator.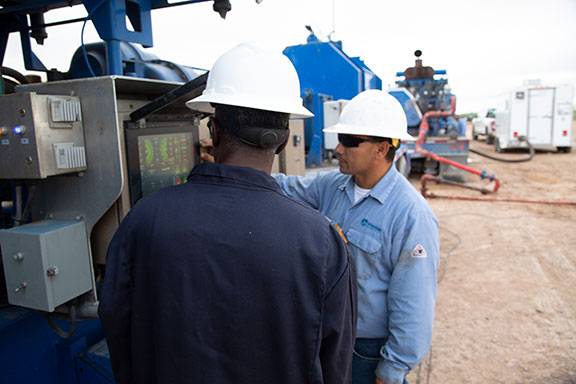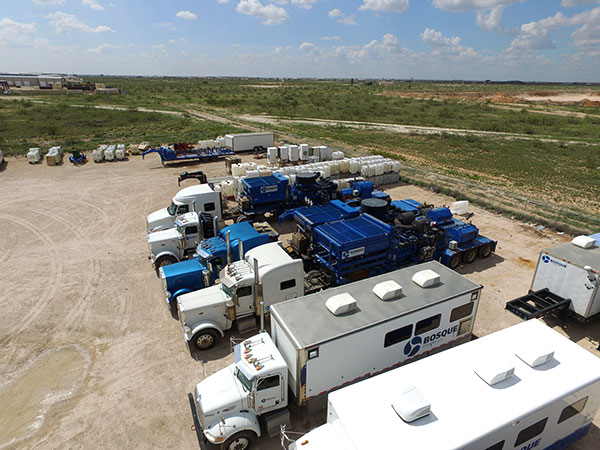 DIONIX
Bosque's proprietary DIONIX system can safely generate an aqueous chlorine dioxide solution on the fly (when two generators are used simultaneously). With easy setup into the main water transfer line, our mobile water treatment units allow for easy integration with frac crews and seamless mobility from job to job.
Other benefits include:
Effective, fast-reacting, superior biocide that is environmentally friendly, EPA-approved with a longer residual than traditional bleach-based biocides
Less corrosive than chlorine alone and eradicates living bacteria before pumping down-hole
Convenient, mobile, 30-foot DIONIX trailer allows for a small footprint on the pad site
Two chlorine dioxide generators allow for redundancy and maximum generation of chlorine dioxide
Offers numerous safety shutdown components and procedures
Two-precursor and three-precursor chlorine dioxide units are regionally available and utilized to match the water treatment demand, technology requirements and customer economics. Each unit design has specialized benefits to meet market needs, and are more cost-effective than traditional solutions.
DIONIX XC
DIONIX-XC, Bosque's complete line of non-oxidizing biocides, is used for long-term kill in completion packages as well as for production needs. Designed to maintain the health and wellbeing of the reservoir, our extended control products provide superior long-term bacteria control down-hole eliminating both naturally occurring formation bacteria and bacteria which has been introduced into the formation during any operation outside of the hydraulic fracturing process.
ScaleStop
Bosque's ScaleStop scale inhibitor is used for sulfate and carbonate types of scale and provides rapid residual analysis for flowback monitoring. It offers high thermal stability and can withstand temperatures up to 375-degrees F.
To offer more complete treatment of hydraulic fracturing fluids, ScaleStop can be used in combination with our proprietary DIONIX system.
 OptiFluids
Bosque provides complete frac packages including slick water as well as cross link packages. Designed for use in water-based fluid additives as well as moderate and heavy brines used in "slick-water fracs," OptiFluids FRs line is available in FR-1, FR-2 and FR-3 – each capable of tackling different challenges in the drilling process.
Bosque's innovative pumping services help operators increase revenue with cost-effective methods that boost reservoir productivity. Using customer data, we develop solutions that allow operators to see and understand the Bosque advantage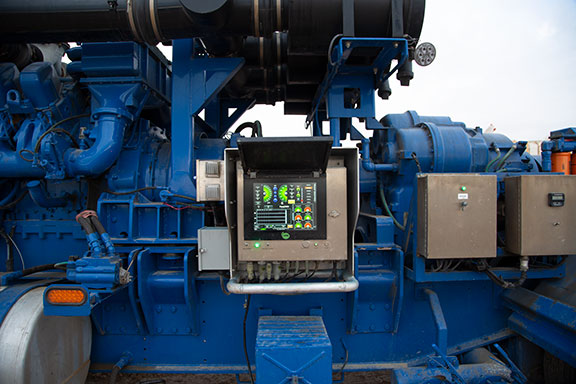 Pressure Pumping
Bosque's low-hour, triplex and quintuplex, 2,250- to 2,500-horsepower pumps handle all your rate and high-pressure needs. We provide the following pressure pumping services in all major oil and gas plays. 
Well Shock
General well remediation
Clean outs (SWD, injection wells, production strings)
Toe prep
Pump down
DFIT (Diagnostic fracture injection test)
DIONIX surfactant jobs
Acid surfactant jobs
Shifting sleeves
Opening/closing zones
Pills
well shock
Traditional acid jobs only rectify a portion of the solids, scale and bacteria in a well, leaving issues unmitigated and untapped potential revenue to be gained. Bosque's Well Shock solution – acidization plus our proprietary DIONIX equipment, technology and customized well designs – removes those barriers and blockages to unlock that potential and change the decline curve. Well Shock restimulates existing wells, boosts productivity and makes wells profitable once again.
Bosque offers targeted, production-based saltwater disposal services and provides consulting, general contracting and construction services for water pipelines, gathering systems and other unique projects. Well-versed in all aspects of saltwater disposal and gathering processes, we offer expertise in land acquisition, permitting, design, material procurement, construction, operation and right-of-way acquisition.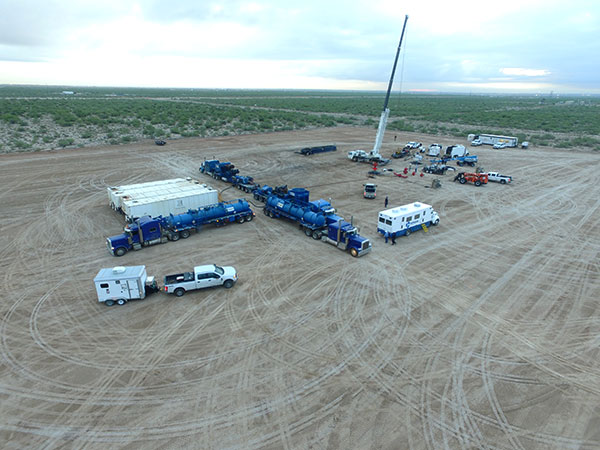 DIsposal
Bosque optimizes revenue and minimizes costs for oil and gas operators by determining the optimal disposal location prior to land acquisition and permit application. Strategically choosing a saltwater disposal can reduce truck costs, disturbance and damage to roads. All disposal wells are monitored by on-site staff 24/7 including management, safety crews and reporting teams.
Bosque employs superior well completion methods of its saltwater disposal wells that result in lower wellbore pressures and less energy use. Each facility is built with redundant equipment to minimize downtime and increase efficiency for peak utilization. We establish long-term contracts with active operators in each region prior to drilling and completion to ensure the well operates at or near full capacity.
Gathering Systems
Bosque has developed multiple gathering systems for major operators totaling more than 100,000 linear feet and manages more than 10 million barrels of saltwater each year. Handling the entire gathering system project from inception to completion, Bosque operates with speed and efficiency to ensure a turnkey, customized solution that exceeds operator expectations.
Oil and natural gas operators are increasingly seeking alternative sources of water to use in oil and gas production while minimizing their environmental footprint. Bosque offers environmentally friendly, cost-effective solutions to reduce dependency on fresh water in well completion activities and produced water re-use applications. This service and consultative approach addresses the Total Cost of your Operation (TCO), including transportation, disposal and more.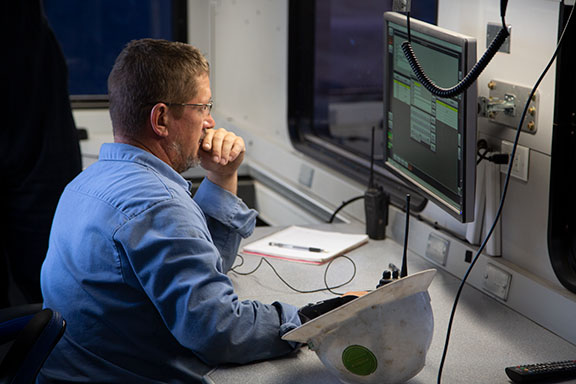 Produced water treatment
Bosque provides water treatment and sterilization solutions to operators in need of processes for water recycling.
storage
Bosque is capable of designing, building and operating water infrastructure that includes storage, treatment and transfer.
water management logistics
Bosque is capable of handling all project logistics including trucking water, piping water, designed optimal produced/fresh water blend rates and more.
Chemical treatment
Water recycling facilities are designed and custom built to meet the specific needs of each operator.  They have the ability to use up to 100 percent of produced and flowback water on-site when used in conjunction with Bosque's water treatment technologies.