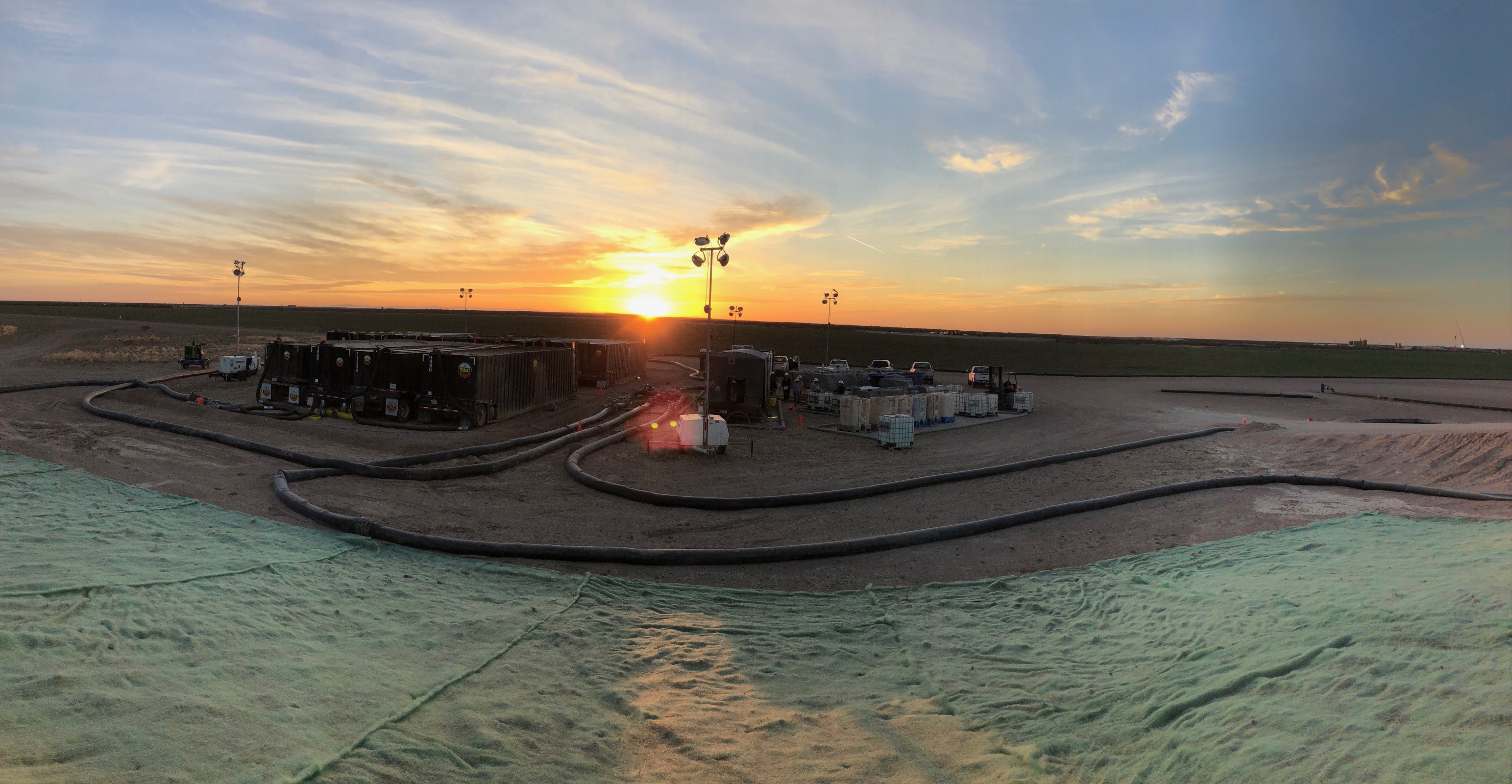 The working number of rigs drilling for oil and gas in Oklahoma is about 28% lower than what it was the first week of January.
The decline has squeezed the number of employed rig workers, which likely has slowed sales and hotel tax revenues in communities near where the rigs had run.
That contraction persists even while oil prices remain more robust than what many company executives had expected when evaluating market conditions for this year.
But exploration and production companies aren't reacting to the situation as they once did.
Rather than aiming to boost production broadly by expanding drilling activities, companies instead are focused on producing more oil and making their operations as efficient as possible, streamlining operations by taking steps ranging from cutting staffs to entering into mergers and acquisitions.
Devon Energy Corp.'s decision earlier this year to jettison its Canadian and natural gas-heavy Barnett Shale assets presents one local example, as does Chesapeake Energy Corp.'s decision to acquire Houston-based WildHorse Resource Development Corp.
Also this year, Encana Corp. bought Newfield Exploration Co., a Texas-based firm operating in Oklahoma's STACK play, only to slash the number of rigs it uses to drill wells in Oklahoma.
The current environment isn't just impacting exploration and production companies, either. Various companies that supply goods and services to those drillers also face a challenging time.
Seen 'a lot'
Analysts say mergers, acquisitions and streamlining efforts are all part of a never-ending cycle of growth and contraction the oil and gas industry experiences.
"In my almost 40 years of being in the industry, I've seen this a lot," said Steve Agee, an economics professor who is the dean of the Meinders School of Business at Oklahoma City University.
Agee, also president and chief operating officer at Agee Energy, attributes part of Oklahoma's recent reduction in working drilling rigs to revenue cuts exploration and production firms were forced to absorb after a general fall-off in pricing for oil beginning in late 2014.
He also, however, attributes at least some of the recent rig count slide to technological improvements that both have made the process of drilling long-lateral horizontal wells faster and cheaper and boosted production rates on completed wells.
"Every year, the technology used to drill and complete wells seems to improve," Agee said, "so we've seen a vast expansion in the amount of oil and natural gas getting produced, and all that has done is drive the price down" for those commodities.
Agee said ebbs and flows in oil patch activities are inevitable and affect every kind of service company involved. In past booms, drilling rigs were added, more wells were drilled and service companies' opportunities prospered.
"But in a downturn, exploration and production companies drill fewer wells and have less service requirements, so service companies usually get hit first in a downturn," he said.
Service key
One company that appears to be successfully negotiating the current business environment is Bosque Systems, a water services company operating across seven different oil and gas plays in North America.
The company, which got its start 13 years ago in the Barnett Shale field working for XTO and Devon, has handled more than 1.7 billion barrels of water for its clients since it was created, top executives recently said.
Clane LaCrosse, Bosque's CEO, said the company's primary business strategy remains staying focused upon finding ways it can improve its customers' value chain. Early on, it acquired and operated disposal wells that could serve multiple wells owned by numerous companies.
Bosque since has moved into providing operators with water to hydraulically fracture horizontal wells, flowback services and recently introduced a new, "Well Shock" treatment for older wells, intended to boost their capabilities.
Bosque operates water recycling centers in three plays: Oklahoma's Anadarko Basin, the Permian-Delaware Basin and in the Denver-Julesburg basin.
"If we can find ways to help companies to reuse water, to become more efficient in how they use it or to improve the longevity of a well, that improves their economics. That is really what we are after, and we do that through technology and fluids management," LaCrosse said.
Peter Pappas, Bosque System's vice president of growth and business and development, said the company's team always is evaluating new ways to save well operators costs.
"Water is a big piece of their lifting costs," Pappas said. "If we can help an operator figure out where to get the water, how to treat it more efficiently and how to best use it to optimize a producing well on the front end, that is what is real sticky for us with the operators."
Both Pappas and LaCrosse agreed the industry's economics have changed dramatically over the past dozen years, from being willing to spend whatever it took to develop technology to limiting costs to boost returns to investors.
Margins have shrunk for all companies in the oil and gas industry, including Bosque.
But while LaCrosse said Bosque has operated with about 300 employees the past several years, he also noted it's managed to grow its business significantly during the same period, boosting the amount of fluids it handles to between 50 million and 60 million barrels per month.
"Our true opportunity as a company is in meeting our customers' need for operational advantages," LaCrosse said.
Expanding markets
Wyoming-based Mesa Natural Gas Solutions, a company that offers power consumers generators that are fueled by natural gas, liquefied natural gas and propane, continues to grow its presence across oil and gas plays stretching from North Dakota to the Permian Basin.
Its growth during its first five years of operations has been remarkable. It currently employs more than 180 people to build, lease and service more than 1,000 generators.
Company officials recently stated Mesa's product is sought by oil and gas operators who need affordable electricity at remote locations.
But Mesa isn't depending on just the oil patch to support its future. Instead, it aims to grow its business opportunities into other sectors of the economy by offering its product to other types of businesses that also need affordable, reliable sources of energy.
"In the deregulated electrical markets, such as ERCOT (Electric Reliability Council of Texas) and PJM on the East Coast, those systems have a lot of programs for demand response, for demand reduction and for peak load shaving," said Thomas M. Poteet III, a vice president of corporate development for Mesa.
Mesa's generators, he said, are well suited to provide backup power at industrial plants and to provide supplemental energy sources for municipalities and other power distributors that must deal with peak load shaving requirements.
"We fill pretty strongly our generators will be super-reliable in those markets," Poteet said.
Elsewhere
While well-defined strategies and efforts to find new markets work for some service companies in the oil patch, others are dealing with the current slowdown by engaging in the same merger and acquisition activities as the companies they work for.
On June 17, for example, C&J Energy Services and Keane Group Inc. announced a $1.8 billion deal to combine their operations in an all-stock merger of equals.
Their goal, corporate officials said, is to create a leading well completion and production services operation that has an increased and more profitable footprint across the most active U.S. basins.
Closer to home, Oklahoma City-based Bison is growing as it provides water disposal services in the SCOOP, STACK, Merge, Arkoma and surrounding basins in the state.
Just over a month ago, it announced it had acquired a competitor, Cobalt Environmental Solutions, noting it had closed that deal after making another earlier the same year to acquire the Oklahoma division of Big Star Trucking, a water hauling services company, plus certain existing and pending saltwater disposal permits owned by Vista Disposal Solutions.
Beyond midstream water services, Bison also offers exploration and production companies logistical and environmental services, builds pipelines and midstream equipment, offers fishing and rental tools and other energy infrastructure-related services.
Agee said he continues to see opportunities for service companies for as long as hydrocarbons are produced.
But he noted only firms capable of adapting their operational profiles to meet the evolving needs of their customers will be truly successful.
"Their business models, after all, are predicated upon the success and robustness of exploration and production companies," Agee said.
https://oklahoman.com/article/5635004/drilling-slowdown-provides-challenges-opportunities-for-service-providers